5 E's of safety: Safety is important in all aspects of life, whether at home, at work, or on the road. There are many things that people can do to stay safe, but there are five basic principles that always apply. In this post, we are going to learn about what are the 5 elements of safety.
Industrial safety is a concept that keeps on evolving and these should be updated as these share a direct relationship with human life. In the previous post, we had learned about the Safety Hierarchy Of Controls in which we had learned what are the 6 steps to prevent hazard at the workplace.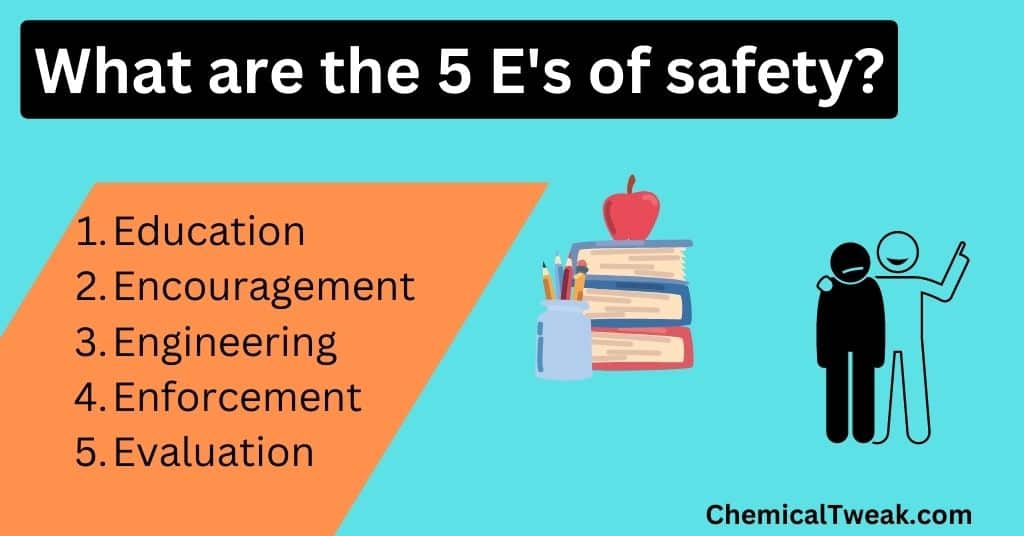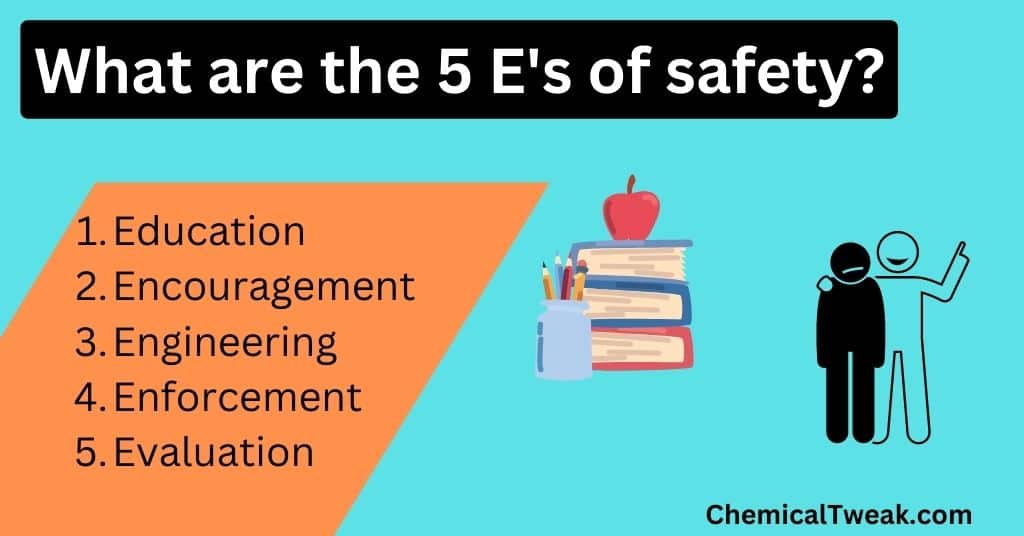 In today's world, we work hard to make sure that our employees have the right equipment, the right training, and the right support. And yet, one of the most important things that we forget to do is empower them.
In this post, I'm going to describe the 5 E's of workplace safety and how they can help you improve the safety of your employees.
What are 5 e's of safety in industrial safety
Education
Encouragement
Engineering
Enforcement
Evaluation
1. Education
Employees need to be educated are properly trained on the dangers of their work environment and the importance of safe work practices. Education can be considered the backbone of any system or policy. It is as important as making a policy for safety. Training is not only necessary for the new employee, after a fixed period of time, but refresher training should also be provided to the old employees.
2. Encouragement
Encouragement boosts the morale of the employee and this gives them the satisfaction that they are part of the organization. Asking the suggestion, congratulating the person for the exceptional work done by them. Encouragement can be by giving them certificates, clicking photos and posting them at the punching machine or in the canteen
Encouraging employee can helps get achieve zero accident goal and also helps management to get proper feedback from the shop floor person to improve the working environment.
3. Engineering
Engineering is the backbone of any manufacturing process and there is always a scope for improvement. The tools and equipment needed to complete a task should be available to the employee. It is recommended to ask for suggestions from the shop flow person who works there. Combining education and encouragement with engineering can result in improvement in productivity and improved work company's environmental, health and safety culture.
4. Enforcement
Enforcement is an essential part of work and environmental safety because it promotes the legislation that safeguards you. The employer must make sure that all employees understand the laws and regulations regarding workplace safety. In any workplace, discipline is important and for that, laws and policies are introduced.
5. Evaluation
Efforts in the right direction can result in exponential growth. Similarly, like any other work, evaluation of the work is important. Evaluation is an important step that allows you to assess the result of education, encouragement, engineering, and enforcement. By evaluation, you can find out the scope of improvement and can take additional steps to improve workplace safety.
FAQ (5 E's of safety)
1. What are the 5 elements of safety?
The five E's of safety are Education, Encouragement, Engineering, enforcement, and evaluation.
2. How many e's are there in safety?
There are five E's in the safety.
Wrapping Up
This was the full guide on what are the 5 E's of safety and how these are important and useful for workplace safety and improving and establishing a safe working culture. If you have any questions related to the 5 elements of safety then do comment below, and we will help you to learn in detail.