In this post, we are going to learn what are the Duties Of Safety Officer Under Gujarat Factory Rules.
The safety department in chemical industries is now becoming an integral part as industries had started focusing on human safety. To ensure, monitor, and evaluate human safety, a safety officer is appointed in the industry.
As industries are growing, hazards are also increasing, and hence need for safety officers is being created. We had talked on various topics of Chemical industrial safety like Types of Hazards in the Chemical Industry. Today, we are going to learn the Duties Of Safety Officer Under Gujarat Factory Rules.
Every state has its own factory rules which industries established in that state had to follow. Gujarat had Gujarat factory rule which is the set of rules for occupational safety, health, and welfare of workers at the workplace. Gujarat factory act can also be defined as An Act to consolidate and amend the law regulating labor in factories.
The Factories Act was subsequently amended in 1935, 36, 37, 40, 41, 44, 45, 46, 47, before its major amendment in 1948.
The Factories bill was introduced in the constituent assembly on 30/01/1948 passed by it on 28/08/1948 received the assent of the Governor-General of India on 23/09/1948 and came in to force from 1/04/1949. Now let us understand safety officer in brief prior to jump on the duties of safety office.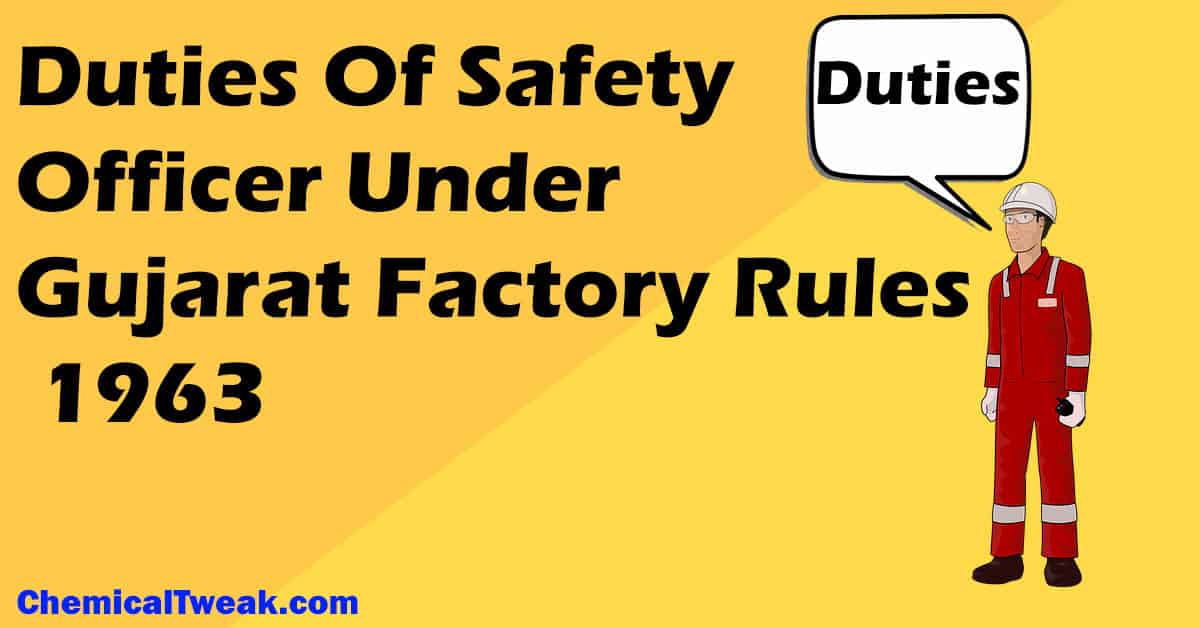 What is safety officer? – Occupational safety officer
A safety officer often recognized as an Occupational Health and Safety Officer is a professional who provides guidance regarding how to conduct work safely, conduct safety audits and give advice to the respective department and take initiative to conduct training for the employees and workers.
The duties of a safety officer shall be to advise and assist the factory management in the fulfillment of its obligations, statutory, or otherwise concerning the prevention of personal injuries and maintaining a safe working environment.
Duties Of Safety Officer Under Gujarat Factory Rules 1963
To advise the concerned departments in planning and organizing measures necessary for the effective control of personal injuries.
To advise on safety aspects in all job studies, and to carry out detailed job safety studies of selected jobs.
To check and evaluate the effectiveness of the action taken or proposed to be taken to prevent personal injuries.
To advise the purchasing of store departments in ensuring high quality and availability of personal protective equipment.
To advise on matters relating t carry out plant safety inspections.
To carry out plant safety inspection in order to observe the physical conditions of work and the work practices and procedures followed by workers and to render advice on measures to be adopted for removing the unsafe physical conditions and preventing unsafe actions by workers.
To render advice on matters related to reporting and investigation of industrial accidents and diseases.
To investigate the dangerous occurrences reportable under rule 103 pf Gujarat Factories Act, 1963 and in the case of industrial diseases contracted by any of the workers employed in a factory reportable under rule 104 of Gujarat Factories Rule, 1963.
To advise on the maintenance of such records, as are necessary relating to accidents, dangerous occurrences, and industrial diseases.
To promote setting up of safety committees and act as an adviser and catalyst to such committee
To organize an association with the concerned department, campaigns, competitions, contests, and other activities that will develop and maintain in the interest of the workers in the establishment and maintaining safe conditions of work and procedure.
To Design and contract either independently or in collaboration with the training department suitable training and educational program for the prevention of personal injuries.
FAQ (Duties of safety officer under factories act)
1. What is the minimum qualification for a safety officer
As per the Factories act 1948, below are the qualification required for a safety office
Graduation with diploma/degree in engineering.
Post Diploma in industrial safety from a recognized institution
Minimum of five years of experience in manufacturing industries.
2. When should a safety officer be appointed?
According to factories Act 1948, Safety Officer is to be appointed if the organization had more than 1000 worker working.
3. What are the duties of the safety officer?
According to the Gujarat Factory Rules 1963, there are 12 duties of safety officer.
Wrapping Up
These are the Duties Of Safety Officer Under Gujarat Factory Rules 1963. If you are a safety office or a student who is learning Industrial safety then you must know the duties of a safety officer also known as the duties of occupational health and safety officer. If you relate with industries and curious about occupational safety then check out the Industrial safety section where we had covered different occupational safety articles like Steps Of Hazard Prevention]. Download our android app to keep yourself updated with chemical engineering concepts.
Reference – https://dish.gujarat.gov.in/e-citizen-acts-rules.htm