Safety from fire is essential at any workplace as it can result in huge loss of human as well as property. Today, in this post, we are going to lean what is Fire Safety In The workplace and fire safety tips.
In the chemical industry, at home or at offices, fire safety is very crucial and not to be taken lightly. Fire not only harms human life but also causes damage to property and the environment. Every year, many people lost their lives in a fire accident. Hence it is important to have fire safety in the workplace.
Safety is everyone's responsibility, hence employees, management, the EHS department, the production department, the maintenance department and many more have to work at their level to maintain a safe working environment.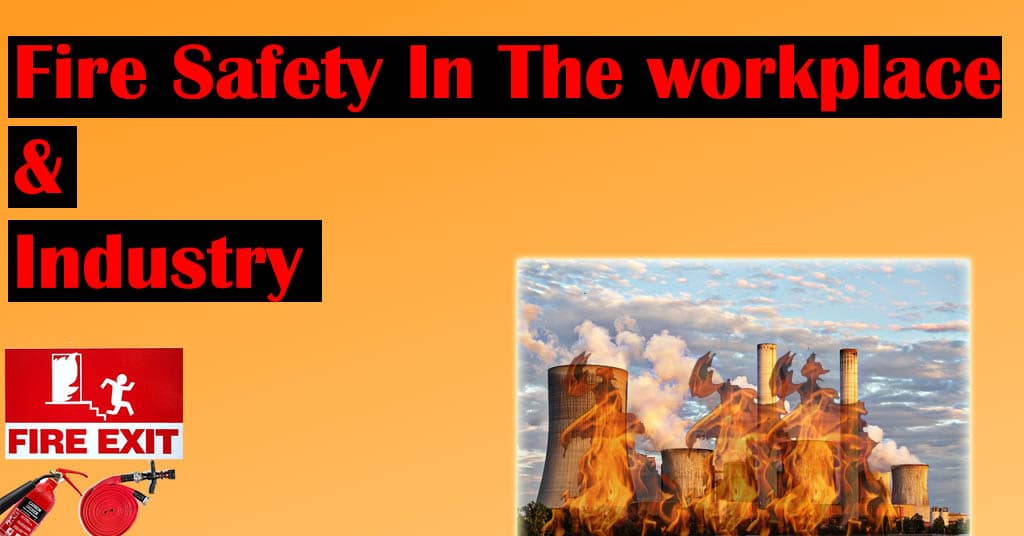 The main objective of fire safety is to protect life first and then property from the fire. Today in this article, we are going to learn fire safety tips that should be implemented in industries and work to have proper fire safety.
Prior to getting into the tutorial, let us understand why workplace fire safety is required.
What is Workplace fire safety?
Under OSHA, 1970, employers are responsible for providing fire fighting equipment and training to use them, the facility must have proper fire emergency exits, and a fire prevention plan to prevent fire hazards in industry or workplace.
Why is fire safety important in the industry?
Fire safety is of utmost importance as it can prevent or reduce harm to people, organization reputation and also damage to property. Fire safety is only a legal requirement, but also important for the employee working in the industry. Here are some points on why fire safety is important in the workplace.
Protection of Life of employees and contract workers
Property Protection that can be damaged by fire
Prevent environmental damage
Legal Compliance
Business Reputation
Employee Wellbeing
Risk Reduction
Emergency Preparedness
Insurance Requirements
Workplace Fire Safety Tips
Now that we have learned what is workplace fire safety and what is the importance of fire safety, let us proceed with the workplace fire safety tips that will help the employees and management to prevent fires at work place.
1. Fire safety awareness
Awareness is the most important the person working on the shop floor where all the production and maintenance activities are going on should be aware of the risk they are surrounded by. Employees must be aware of the fire fighting and what are the steps they need to take in case of fire. Apart from fire fighting steps, employees need to be aware of the fire hazards associated with their jobs.
For this purpose, safety toolbox talk must be conducted by the safety office to make contract laborers aware of the fire potential in the work they do. Job safety analysis must be performed and make the workers and employees aware
2. Fire Prevention Plan
According to OSHA fire prevention plan 1910.39(b) if an employer has 10 or less employees, the fire prevention plan to be communicated orally or in writing, and for the employer, more than 10 employees must have a written fire prevention plan and to be available to every employee.
A fire prevention plan includes plans, procedures, and methods to minimize fire accident and fire frequency which reduce the frequency of evacuation.
Housekeeping procedures must be included in the plan which shall include storage of hazardous material, handling procedures, and many more. We had discussed what is fire and the stages of fire in detail which you should refer to learn the 4 stages of fire along with the graph.
Procedures to prevent fire from heat-producing activities or ignition sources such as welding, cutting, grinding or smoking should be included in the plan. Cleaning and maintenance of equipment such as heat exchangers, ovens, dryers, boiler burners, etc should be included to avoid the accumulation of flammable chemicals which can result in fire.
3. Fire Safety Equipment
Fire safety equipment or fire suppression system is an effective way to improve fire safety in chemical industries. Fire suppression system includes automatic fire sprinklers system, Automatic Dry Powder Fire Extinguisher, Fire Alarm Systems, smoke control system and etc.
Installing automatic fire suppression is not the only task, proper maintenance and trial must be taken at a regular period of time should be performed.
We know how important time is when the fire is at the initial stage as it can be controlled very easily. Quick and precise action is required to control the spreading of fire at the initial stage and for that purpose, a fire suppression system is used.
4. Proper fire fighting equipment
In case of fire, Fire fighting equipment are the tools that are needed to take control of fire. Fire fighting equipment includes portable and suitable fire Extinguishers, a fire-resistant protective apron, fire-resistant gloves, and respirators.
Firefighting equipment is the tool to prevent the spreading of fire. If the correct tools are not used, it can lead to a major accident.
5. Fire Emergency Plan
According to OSHA, it's the responsibility of an employer to create a Fire emergency plan. Fire at the workplace is always a non-desirable thing but in the case of fire, the facility should be prepared for such a situation, and hence, a fire emergency plan is required.
A fire emergency plan should include
Enough Fire emergency exits and routes
Evacuation procedures
Emergency doors that open easily.
Emergency lighting where needed.
Fire exit layout if possible them emergency map
Assembly point
These are the points that are needed in the fire emergency plan but the most important thing in the fire emergency plan is training and awareness plan. Every employee working at the workplace must be aware of this and must be trained to avoid chaos at the time of emergency. All the employees should know the action required in the event of a fire and evacuate themself as quickly as possible.
6. Emergency response team
An emergency response team should be established in the workplace. Fireman can't reach to every place hence ERT members need to be appointed among the employees working in the plant who can take action immediately prior fire man reach the fire place.
7. Safety training to programs and mock drills
Workplace fire safety training is important to keep the persons updated with the latest safety equipment and firefight. Every year, fire hazards occured all over the world and after the accident, an incident report is prepared. Case studies of fire accidents are the best tool to know the reason for fire accidents and help us to take learnings from other's mistakes.
8. Electric safety
Electric safety is equally important as electrical failure is the root cause of fire in industries. Regular electrical maintenance and preventive maintenance of the equipment, motor, and pumps need to be done to prevent fire in the equipment. Overload is a common cause of electrical fire, hence an overloaded circuit breaker must be installed to prevent fire due to overload.
Inspection must be done to check and fix the Lights flickering, and loose wire connection to prevent electric safety. Proper cleaning and housekeeping should be done to clean any deposition of flammable substances over the equipment.
9. Practice Good Housekeeping
The first thing that comes to mind when we listed "Housekeeping" is about clearing floors and surfaces. But in real terms, housekeeping is something more than that. Housekeeping means sorting and organizing things to their proper place. Storing hazardous and flammable chemicals in the proper place should be done properly and as per the standard operating procedure.
FAQ ()
1. What is fire safety in industry?
Fire safety is a set of steps, precautions, and practices that every organization should follow to reduce the possibly of the occurrence of fire in industry.
2. Why is fire safety at workplace is important today?
Fire safety helps organizations to prevent fire accidents in organization which prevent harm to employees and contract workers. Apart from that, it also prevents harm to the environment and property damage.
3. How can we prevent fires in the workplace?
These are the Workplace Fire Safety Tips that can prevent fires in industries.
1. Fire safety awareness
2. Fire Prevention Plan
3. Fire Safety Equipment
4. Proper fire fighting equipment
5. Fire Emergency Plan
6. Emergency response team
7. Safety training to programs and mock drills
8. Electric safety
9. Practice Good Housekeeping
Wrapping Up
These are the detailed fire safety tips workplace that can help in establishing fire safety in the workplace. Not only in the industry, but you can also apply some of the tips at your home or office. If you have any additions to the article Fire Safety at Workplace or in case you want us to cover any specific topic then feel free to the comment section. Now we are on Linkedin Chemical Tweak so do follow us over that.