NFPA diamond diagram also known as safety diamond is developed by the Nation fire protection association for hazard identification and still, and it is widely used over the world. The national fire protection association is established as a nonprofit organization, in 1896. One can also call this as NFPA 704 and a couple of other names such as safety square and Fire diamond.
NFPA fire diamond diagram is designed to provide information quickly related to the identification of risks of hazardous materials which will help the emergency response team to act accordingly.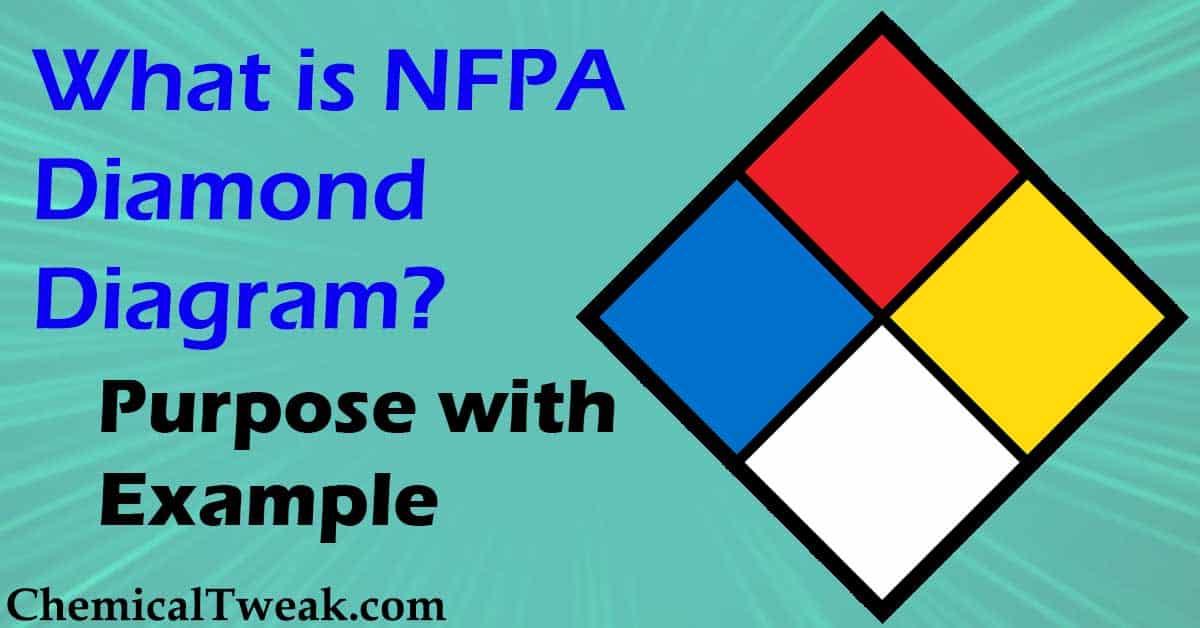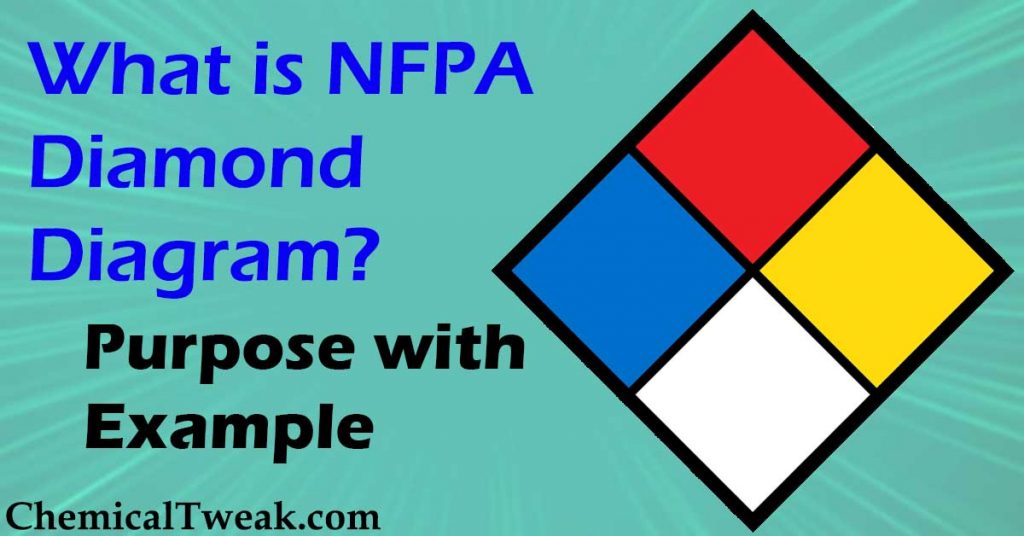 There are lots of terms that are associated with industrial and among those, NFPA is one of them, previously, we had discussed what is Hazchem Code Chart & Details With Examples similarly, today, in this post, we will learn what is fire diamond diagram its uses and chart.
What is NFPA Diamond diagram?
NFPA diagram consists of four divisions with color and has a number from (0-4)  in three of the division and special character written one of it. Each division is color with  Red, blue while and yellow which indicates health hazards, flammability, reactivity, and special hazards that chemical may profess during a fire.
Purpose of NFPA risk diamond diagram.
Fire diamond is to convey the instruction to fire the fighting person about the hazard to the human from the chemical. It represents hazard to human health in 4 aspects, heath Flammability reactivity, and special hazard. One can see NFPA fire diamond diagram trucks transporting chemicals, chemical storage containers, cylinders, or drums.
NFPA Diamond diagram Chart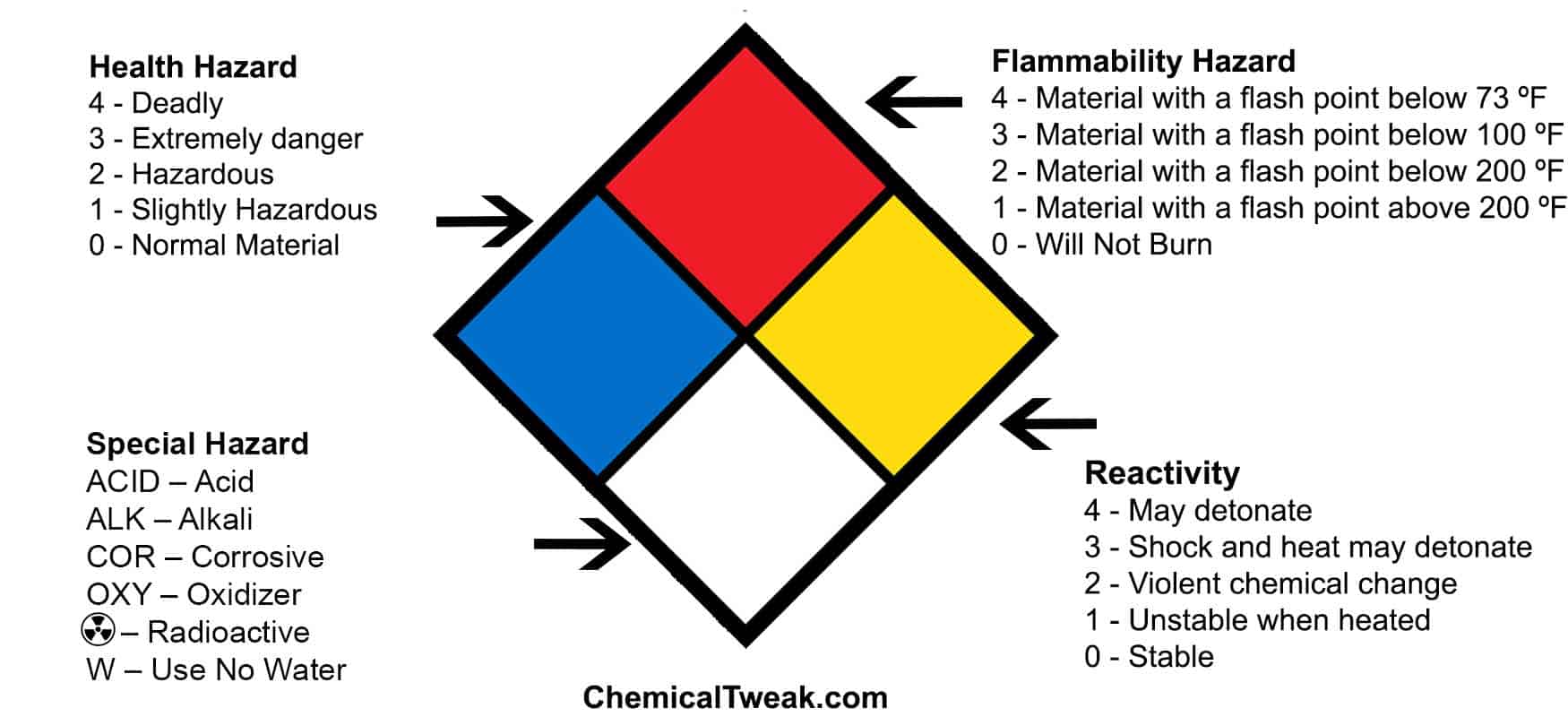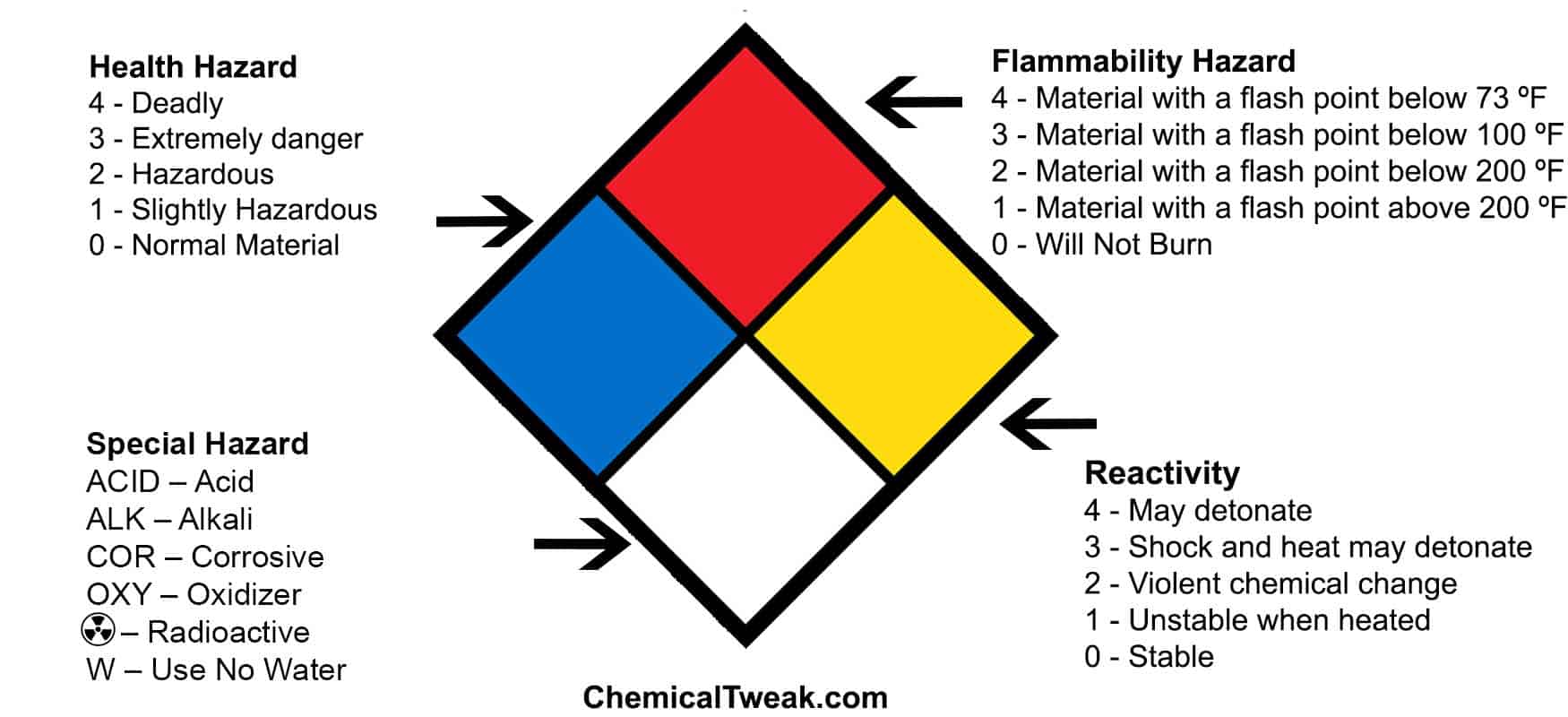 Health Hazard
4 – Deadly
3 – Extremely danger
2 – Hazardous
1 – Slightly Hazardous
0 – Normal Material
Flammability Hazard
4 – Material with a flash point below 73 ºF
3 – Material with a flash point below 100 ºF
2 – Material with a flash point below 200 ºF
1 – Material with a flash point above 200 ºF
0 – Will Not Burn
Reactivity
4 – May detonate
3 – Shock and heat may detonate
2 – Violent chemical change
1 – Unstable when heated
0 – Stable
Special Hazard
ACID – Acid
ALK – Alkali
COR – Corrosive
OXY – Oxidizer
☢ – Radioactive
W – Use No Water
Example of NFPA Chart of Chlorine
Here is the example of NFPA diagram of chlorine, in which, the rating is given as below, – Read MSDS of chlorine
Health – 4 – Here, 4 number indicates that this can be lethal.
Flammability – 0 – Will not burn
Reactivity – 0 – Normally stable
Special Hazard – OX – Possess oxidizing properties.
1. What is the full form of NFPA?
Ans – NFPA stands for National Fire Protection Association.
2. What does NFPA diamond mean?
Ans – National Fire Protection Association had created a diamond diagram as a rating system, which helps to identify hazards of a material.
3. What does the white color on the NFPA diamond stand for?
Ans – The white color in NFPA symbolize special hazards i.e. Acid, radioactive material, oxidizer, and many more.
4. What are the four colors of the risk diamond?
Ans – The four-color of NFPA diamonds is Red, yellow blue, and white.
5. What is NFPA 704?
NFPA 704 is a color-coded diagram developed by the Nation fire protection association that helps to determine the danger from the chemicals and also warn firefighters to take necessary actions incase of fire.
Wrapping Up
This was brief on what is NFPA diamond guide is and its purpose. If you are related to the chemical industry or you want to learn more about industrial safety, you can read industrial safety articles where we had cover important topics in brief. In meantime, you can read 6 Steps Of Hazard Prevention which will help you to know what is workplace safety and how to prevent them.