In this post, we are going to discuss what is safety toolbox talk is, the Importance of toolbox talks in the workplace and what are Safety Toolbox Talks Topics.
Workplace safety is very crucial for different reasons and the most important one is employees and contract workers safety. To enhance safety at the workplace, small talk on safety topics for work can be beneficial.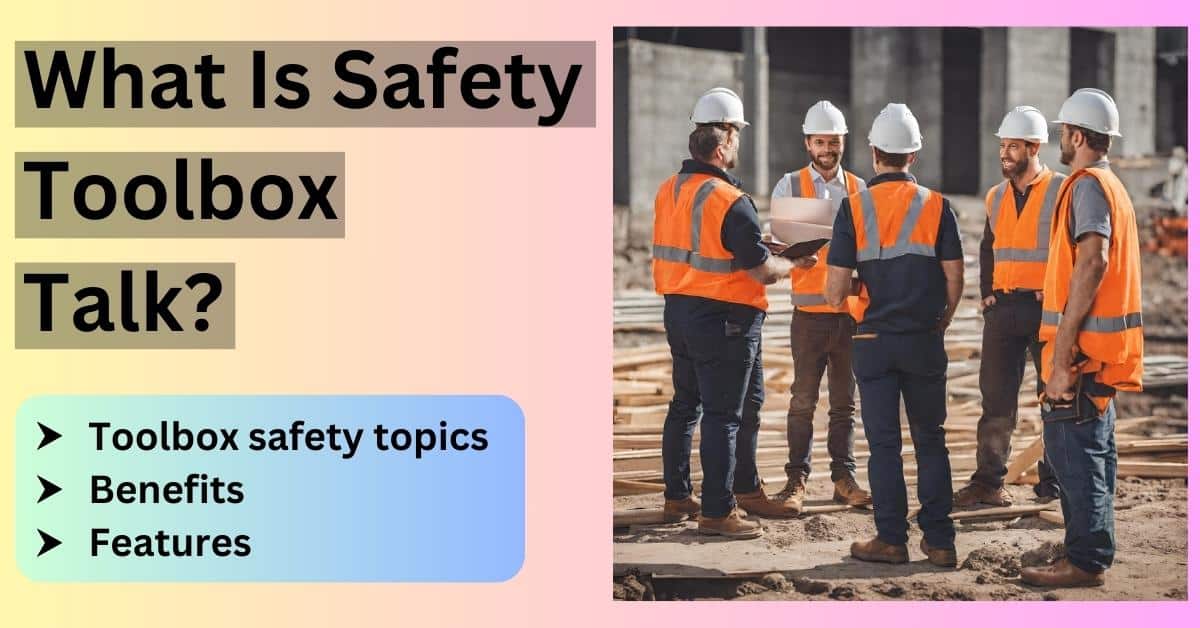 As you know, for any work to be conducted in the industry, safety work permit is to be issued and approved by the respective managers. Along with the work permit, a small work-related talk is to be done with the person who will attend the job.
If you are working in industry then you must have heard about toolbox talks. In case you are a fresher then you must have a basic knowledge of toolbox talks.
What is toolbox talks for safety?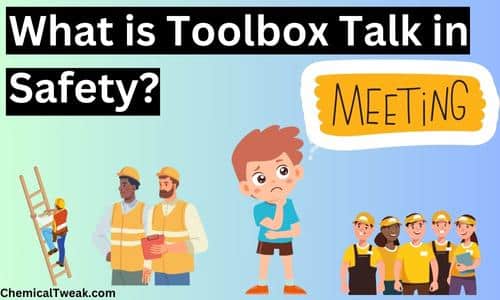 Toolbox talks are short, focused meetings that allow team members and supervisors to come together to discuss potential hazards and safety precautions related to their specific work tasks. The aim of toolbox talks is not only to educate employees on safe working practices but also to encourage a culture of safety within the organization.
Toolbox talk is sometimes also referred as a safety meeting or Safety Minute. By regularly addressing safety issues and concerns, toolbox talks help keep workers informed and engaged in maintaining a safe working environment.
Why is safety toolbox talk important?
To attend a job in the industry, a permit to work system is mandatory and toolbox talk is a part of the safety permit. Before the worker starts performing the job, it is the responsibility of the production engineer, production area operator, and maintenance engineer to give a small toolbox talk regarding the job and make them aware of the potential hazard in the job.
Safety toolbox talks are crucial in any workplace environment, as they allow the shop floor worker for regular discussion on safety information. These brief, interactive safety meetings are a quick refresher awareness about the potential hazards, safety precautions, and emergency procedures that need to be followed to ensure the well-being of everyone on site.
Regularly Conducting toolbox talks, employers can actively promote a culture of safety awareness and maintain a high level of vigilance among their workers and employee.
Safety toolbox talks encourage open communication between employees and management by providing an opportunity for them to voice their concerns or share any near-miss incidents they may have experienced. This small-duration safety meeting helps identify potential issues and encourages collaboration in finding solutions. When employees feel valued and empowered enough to contribute to workplace safety discussions, it creates a sense of ownership and responsibility toward maintaining a safe working environment.
Toolbox talks have been proven effective in reducing workplace accidents and injuries. They enhance employee awareness by focusing on specific risks associated with different tasks or areas within the workspace.
Toolbox talks provide an avenue for reviewing previous incidents or accidents as case studies so that valuable lessons can be learned from past mistakes. Ultimately, these measures result in fewer accidents in organizations and plant.
Prominent features of toolbox talks (Toolbox talk topics)
Now that we have learned what toolbox talks, to deliver an effective toolbox talk, here are are some of the points that you need to include in the safety toolbox meeting topics
Toolbox talk should be started taking routine activity into consideration and what are the safety points that we need to consider.
Importance of housekeeping on the shop floor
First Aid Toolbox Talk
Personal Protective Equipment (PPEs)
Permit to work importance
Slipping, Tripping, and Falling
Electrical safety toolbox talk
Ergonomic Hazards at the workplace
Hazards in charging material (raw material)
Height work toolbox talk
Hot work toolbox talk and compliance
Refresher training on how to use fire extinguisher
Slipping, Tripping, and Falling
These are the safety toolbox topics and these should be included in the safety meeting. Only a short brief discussion should be conducted as these are workplace safety tool box and not a safety training.
FAQ (safety toolbox talks topics in the industry)
1. What is toolbox talk in safety?
Safety toolbox talk is a discussion lead by a supervisor or an engineer on workplace safety or job specific hazards. This 5-10 minutes talk encourage safety in the organization.
2. What is a toolbox talk example?
Here are some of the safety meeting topics that can be included in the safety topics for work.
– Personal Protective Equipment (PPEs)
– Permit to work importance
– Slipping, Tripping, and Falling
– Electrical safety toolbox talk
– Ergonomic Hazards at the workplace
– Hazards in charging material (raw material)
– Height work toolbox talk
3. How long should a toolbox talk last?
Ideally, the safety toolbox talk should last for 5- 10 min as it is not safety training and only important points should be cover.
4. How do you start a safety talk at the workplace?
Safety talk at work place should start with an introduction about the topic followed by past experience and examples.
5. Are toolbox talks daily or weekly?
Toolbox talk should be conducted on a daily basis as it can be a quick refresher training and a safety talk prior to starting work can have an edge in making the job safe.
Conclusion
Hope reading this article, you understand what is toolbox talks and safety toolbox meeting topics. If you have any other topic that you think should be included in safety toolbox talks topics then do share with us in the comment section. In case you want us to cover any specific topic, feel free to let us know.