Work at Height permit : In this article, we are going to learn what is height work permit procedure and what are the working at height hazards in detail.
In the previous article, we had coved what are permit to work and there are different types of work permits that are used in industries, and among those, a height work permit is one of them.
In case you want to learn What is PTW in Industries and what are the different types of work permits then do learn it.
In many industrial workplaces, a height work permit is required for employees who need to access elevated areas. This permit ensures that employees have received the necessary training and are aware of the potential hazards associated with working at height. The permit also provides a way for employers to track which employees have been trained and authorized to work in elevated areas.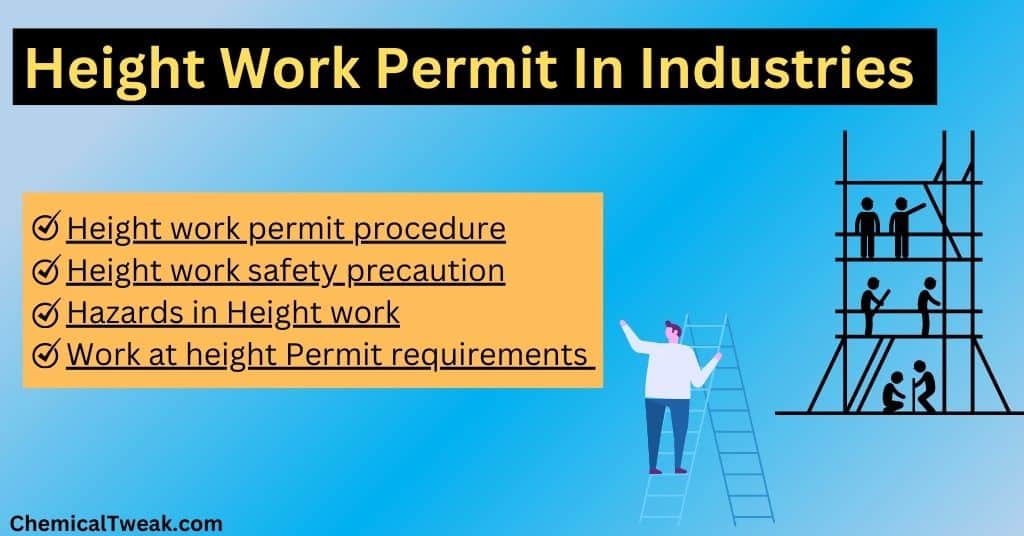 So without wasting more time, let's get into the article and learned what is a height work permit and learned through examples. Knowing safety measures in height work is important.
What is Height work permit?
A height work permit is required when working at heights above a certain level. The level is set by the Occupational Safety and Health Administration (OSHA) and varies depending on the type of work being done.
According to the OSHA, height is decided as 1.8 meters. So if the work or the job is to perform is at 1.8-meter height from the ground level then a height work permit is required.
What is the purpose of Work at height permit?
The main purpose of a height work permit is to ensure the safety of workers working at height. A number of hazards associated with height work as men/women have to be assessed and use control measures to prevent working at height accidents.
Example of Height work permit
A height work permit is common issues permit at the construction site and chemical industries. Here are some of the examples where a height work permit is issued.
1. Pipeline erection on pipe rack
This is the example of height work where when we have to an erection of pipeline on the pipe rack or the process work and as it to be shifted on pipe rack which is at height, we have to issue a height work permit. Even bolting and flange tightening work of pipe present at height falls under height work.
2. Insulation and cladding work on equipment
Providing insulation to the equipment and pipe lines are common jobs in a chemical plant and some equipment are at height such as distillation column or reactors. In that case, height work is to be an issue to perform the task.
Height work permit procedure (Step-by-step guide)
Firstly the production department authorized person will inspect the job which is needed to be done and involves working at height.
Now they discuss the work with the maintenance department regarding it and they identify the hazard associated with the work. The maintenance department will discuss the job with the company person or the contractor to arrange all the equipment and manpower required for the work.
Now, the production person will prepare a Height work permit including risk assessment sheet, and handover to the mechanical engineer for verification.
After approval of the maintenance department engineer, a permit is handover to the contract person to fill out the names of the person who will be involved in the job and accept it.
Now, the permit is sent for approval and acknowledgment to the production department area operator who will ensure safety measures and, it is then sent to the production manager or Plant Head of the department for approval where he verifies all the checkpoints.
Now, the safety office is informed by the mean of the permit issuer and after hig inspection and approval, the job is allowed to perform.
Note – The contract supervisor should be present at the job untill it is not completed.
This is the proper hot work permit flows where apart from the hot work permit checklist, senior persons are being taken for approval to avoid any mistake.
Working at height hazards
Fall of the person from scaffolding, or platforms due to poor edge protection
Slip of tools or Falling Debris.
The most common hazard associated with height work is fall of the person due to poor scaffolding construction. Another reason of this type of accident is the absence of a railing or a corroded platform
Slip of tools is also a hazard in these jobs. So it is slipping of tools should be prevented. Also, this is the reason why barrication required, area barrication will prevent persons from entering in the zone where the job is to perform so if there is a slip of tools, no person will be harmed standing on the ground floor.
Work at height safety measures
Now that we had learned what is height work process, lets us have a summarized view on what are the work at height safety and control measures. Here are some of the safety measures required as safety measures in height work
Medically fit person and should not suffer from Acrophobia.
Proper Scaffolding and should be have green tag (Ready to use) (A Guide To Scaffolding Safety)
Skilled labor.
Area barricading.
Personal safety equipment like Safety harnesses.
A type ladder and H type ladder.
Weather conditions. (Should not allow working while raining or harsh weather)
Fall prevention plan for working at heights
Fall prevention is a must prior to issuing a height work permit in the plant.
Proper training for the worker.
Provision of safety harnesses.
Provision of adequate fall protection systems viz. Hand railing, guard rails, and covers for openings.
FAQ (Work at height Permit)
1. At what height work permit is required?
If the work that is need to be completed or the task needed to be perfrom is above 1.8 meters then it is required to take a height work permit.
2. Why 1.8 meters is considered as work at height?
After considering the number of accidents, it is observed that if a person falls from 1.8 Meters or above in a certain position, it can cause fatality of person.
3. What is the purpose of a height work permit?
The main purpose of height work is to assess hazards associated with the job which is to be performed at height and use the control measure to prevent such accidents.
4. What is green tag in scaffolding?
Two types of tags are mostly used in scaffolding, Green and Red. Green tag ensure that scaffolding is ready to use and Red indicate scaffolding as danger to use.
Wrapping Up
This was the detailed information regarding what is height work permit including height work procedures and examples. If you have any problem in understanding the work permit system then do let us know in the comment section. We will try to explain you. if you want us to cover any specific topic, then also use the comment section.